The tragedy of terrorism in sports and marathons
My article that appeared on 21 April 2013, in Sportskeeda as Editor's Pick
Last Monday's attack at the 117
th
Boston Marathon is not the first time that a sports event was targeted by terrorists, and be sure that it will not be the last. From the 'Black September' of the 1972 at the Munich Olympic Games (during which the games were suspended for the first time in modern Olympic history) that left 11 Israeli athletes dead after an extended hostage drama, to the well planned attack by gunmen on the Sri Lankan cricket team in Pakistan, violence has surfaced in sports as a means of political and terrorist expression.
In 2008, the opening ceremony of the Colombo marathon left fifteen athletes dead, including a former Olympic marathon runner and national athletics coach, and scores injured as the country watched in horror the opening ceremony of an event meant to bring the country together to celebrate the Sinhalese New Year.
Even if the purpose of such attacks is the same as it is in any other terrorist attack – to gain attention, to divide the community and to instill fear and insecurity in the general public – the attack on a sporting event hurts more. After all, sports is not always about the better man winning. More often, it is about sportsmanship, achieving, pushing your limits, overcoming your fears and the triumph and celebration of the human spirit.
Marathon running easily qualifies as 'the event' that symbolizes everything that the spirit of sports represents. While football and cricket may have millions of fans, without doubt marathon running attracts the largest participation from amateur athletes. No other, and absolutely no other sporting event, sees tens and thousands of athletes, of all abilities, from all backgrounds, nationalities and age-groups congregating at a single place to cross the finish line at the end of a 42.2 km course. After all, the only things you need to run a marathon are sturdy legs, a determined mind and the spirit to finish.
So while targeting the Olympics is certainly going to get terrorists a lot of political attention, targeting a marathon race can hurt as much if not more because unlike the Olympics, a marathon is an event for and of the masses! And marathons go beyond running by becoming cultural events. Cities shut down for a few hours and citizens gather along the course to cheer runners, most of whom they don't know. Such an event instills camaraderie amongst spectators and amongst participants and those participants come from all over the world.
Kathrine Switzer
once rightly said, "If you are losing faith in human nature, go out and watch a marathon!"
Established city marathons are symbols of the cities they are held in. Plus, events such as the London Marathon (that attracts over 100,000 participant applications), the Berlin Marathon, the
Tokyo
Marathon, the Chicago and New York Marathons and even the
Mumbai
Marathon are tourist draws in themselves.
Even if 'why the Boston Marathon?' is passé by now, let's acknowledge that the Boston Marathon is iconic for many reasons. Established in 1897, it is one of the world's oldest races. It is not just a challenging running course but also one of the most difficult marathons to qualify for. Race entries are based on stringent timing criteria that runners must first achieve at other races. Amateur athletes spend years training to merely qualify for this race. In fact, an entry into the Boston Marathon itself is considered an achievement amongst runners.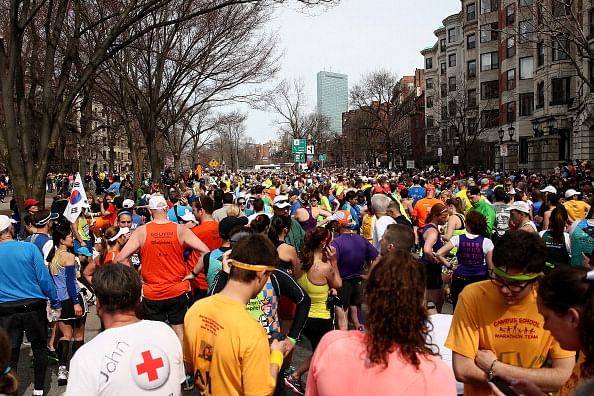 Also, the race is held on a Massachusetts public holiday, drawing record spectator support as the state comes together to commemorate America's war for independence on Patriot's Day. About 27,000 runners participated in the 2013 Boston Marathon, including 5,500 international participants (including 15 Indians). Imagine now what it means to attack an iconic public event like the Boston Marathon, held in the United States of America, a country that has not seen a single act of mass terrorism since 9/11?
On Monday, the world was outraged – runners and non-runners alike. Social media sites were abuzz with condemnation of the attacks, as well as of support for the city and for those directly impacted by the events of that day. For many, personal achievements after years of training took a backseat. After all, it is this exactly that marks the spirit of every sports person and that of every human being. When we come together, leaving everything aside, to condemn an attack that was meant to scare us, even keep us away, we show the bad guys what we are made of.
A runner from Australia, Bruce Hargreaves, could be right when he commented on Facebook, "Never again will we be able to run the streets of the great cities in the world with the freedom we have become used to. Now, we will be faced with security, not dissimilar to that of our airports." Then he went on to add, "But if I entered for a race, and I knew that there was a terrorist, I would get to the start line first, and paint a 'big bulls eye' on my vest. We must never ever submit to terrorism, and going about our daily lives and showing no fear is the best way of doing that."
Despite the events at the Olympics in 1972 and the continuous threats the Games face every four years, the event has only grown in every conceivable way. Even though we may be saddened and angered at the Boston bombing and even though runners may be concerned about their safety, I know that I echo the feelings of every runner when I say that today we are more determined than ever to run international races. If anyone wants evidence of it, all they have to do is follow the London Marathon that has over 37,000 runners on its course as I write this. After all, we are runners, sports people. And sports people are tough – in body, in mind and most of all in their spirit!